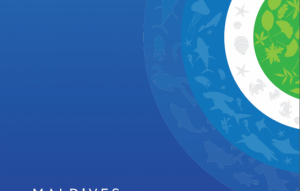 The Fifth National Report on Biological Diversity, prepared in accordance with the national obligation under the United Nations Convention on Biological Diversity (CBD), has been submitted to the Executive Secretary of the Convention by the Government of Maldives.
The report is a compilation of the most recent information on biodiversity obtained from existing studies and resources, and provides ample knowledge into the Maldives small low lying coral island biodiversity relishing a tropical monsoon climate. Detailed account of the outstanding qualities and global significance of the coral reefs of Maldives and some unique facts of the small nation are given in the report. The report shows that Maldives has two of the largest natural atolls in the world, with Bodu Thiladummathi, being the largest, has an area of 3,788Km2, and Huvadhoo, the second largest has an area of 3,278Km2. Forming the seventh largest reef system in the world, the Maldives reefs represent as much as 3.14% of the world's reef area with a total of 2041 distinct coral reefs. The remarkably rich coral reefs form one of the world's most diverse marine ecosystem.
The report, which covers extensive themes of biological diversity, conveys valuable information regarding terrestrial floral and faunal diversity, wetlands and mangrove ecosystems, diversity of avifauna, and the incredibly rich coastal and marine diversity of the island state of Maldives. The role of biodiversity and its distinction in different economic sectors along with the vital role it plays in the social wellbeing and sustainable development is meticulously looked into in this report.
Broadly categorized into three main parts, the reports highlights the terrestrial and marine species found in the Maldives including but not limited to, globally significant and threatened species. A vast array of information is provided on the status and importance of biodiversity, main threats to biodiversity, and impacts of the changes in biodiversity. It also looks comprehensively into national biodiversity targets, progress towards achievement of these targets as well as the Aichi Biodiversity targets which are the targets adopted by international community at the 10th Conference of the Parties to the CBD.
Providing significant knowledge into the biodiversity status of Maldives, this report also covers national and international actions as well as commitments undertaken in order to ensure biodiversity conservation and sustainable development. This report is now available from Ministry of Environment and Energy official website www.environment.gov.mv.
Maldives became a signatory to the CBD in 1992 where the primary objectives of the convention is the conservation of biological diversity, sustainable use of its components, and the fair and equitable sharing of benefits arising out of the utilization of genetic resources.
Read it Online: 5NR to CBD_Maldives