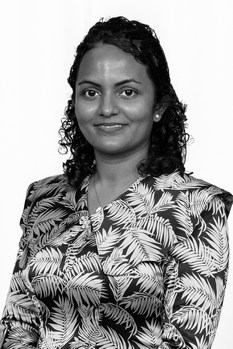 H.E. Aminath Shauna is the Maldives' Minister of Environment, Climate Change and Technology. Her portfolio includes, protecting the natural environment and its resources, action and advocacy on climate change, science and technology development, and the implementation of policies and regulations related to the provision of energy, telecommunications, water, and waste management. She also provides policy direction to the Ministry's affiliated agencies, namely, the Environmental Protection Agency, Utility Regulatory Authority, Communications Authority of Maldives, National Centre for Information Technology, Maldives Meteorological Service, and the Biosphere Reserve Office.
Prior to her appointment as Minister, Shauna served as Policy Secretary to H.E President Ibrahim Mohamed Solih where she was responsible for oversight of the implementation and coordination of government policies, as well as advising the President on policy issues.
During President Mohamed Nasheed's administration (2008-2012) Shauna served as Under Secretary at the Policy Office of the President's Office, where she was responsible for the management of all government policy matters, especially those pertaining to climate change. She was also responsible for management of the secretariat of the Climate Change Advisory Council, the expert body charged with providing climate change policy advice to the President. She led the national effort to realise its vision of becoming a carbon neutral country by 2020, steering the development of the Maldives' renewable energy investment plan. In addition, she headed the Monitoring and Evaluation Unit of the Policy Office where her primary responsibilities included working closely with Government ministries to oversee implementation of government policies.
Shauna started her career as a journalist at Minivan News in 2008, covering the Maldives' first multi-party, presidential elections.
Shauna was recognized by the World Economic Forum as a Young Global Leader 2020. She was elected president of the Maldivian Democratic Party's Youth Wing in 2010, serving a four-year term in which she institutionalized its role as a leader in policy formulation, campaigning, street activism and fundraising, using the power of art, music, and social media to ensure that the Party continued to be a voice for Maldivian youth. She has been supporting the MDP since 2008 in planning its campaigns, rallies and protests, and assisting the party at a strategic level in communications, international engagement and political party development.
Shauna has a Bachelor of Arts in Political Science, Environmental Science and Economics from Westminster College, Missouri, USA.